When it comes to having the best sleep at night, nothing beats getting the perfect foam. There are very many varieties and types of mattresses in the world today. However not, every mattress you see around will be a good choice, especially if you are looking for proper circulation.
With the world of technology advancing, there are many manufacturers too who try to always improve on their products so that people can have a better sleep during the night. But it all begins with knowing where to get the best mattress.
For seniors, proper circulation means allot during the night. And that of necessity means they must sleep in a comfortable place.  For that reason, finding the right mattress for circulation is not an option. They must just do it.
We have seen people waking up feeling more tired than refreshed in the morning. This means you did not get enough rest for your body as per the intention of the exercise. Many reasons may cause a lack of enough sleep, and the top one is the choice of a mattress.
How Will Poor Circulation Affect You?
Proper circulation is key to good health, and one must ensure they get it right. Some of the effects you may feel in case of poor circulation include:
​Pain. This is a very common issue for seniors. You may wake up feeling as though you have been run over by a track when in real sense, it is only poor circulation.
​Numbness. When the nerves fail to get enough oxygen from the blood, they are not able to function properly. It all starts from the breathing, which fails to send signals to the right place because the nerves are not working. As a result, you wake up with numbness that you cannot explain where it all started.
​Stiffness. Have you ever woken up and felt like your neck is stuck on one side? That is one of the major effects of poor circulation. You will never be able to have a normal working body when you wake up. This is a major issue for those who suffer from bone-related conditions. As the muscles fail to receive enough blood, they are not able to relax and contract appropriately. Such an experience can be quite painful.
​Slow healing from injuries. When you get wounded, the body reacts by sending the white blood cells and the platelets to heal the area. White blood cells fight off infectious germs while the platelets work on blood clotting, which eventually leads to healing The red cells on the hand are responsible for supplying gaseous exchanges and transporting other useful fluids like plasma. In other words, the blood needs to move efficiently in the wounded area. So when you don't get good sleep due to poor circulation, the wounded area is denied these essential components and is not able to heal.
Adverse Health Effects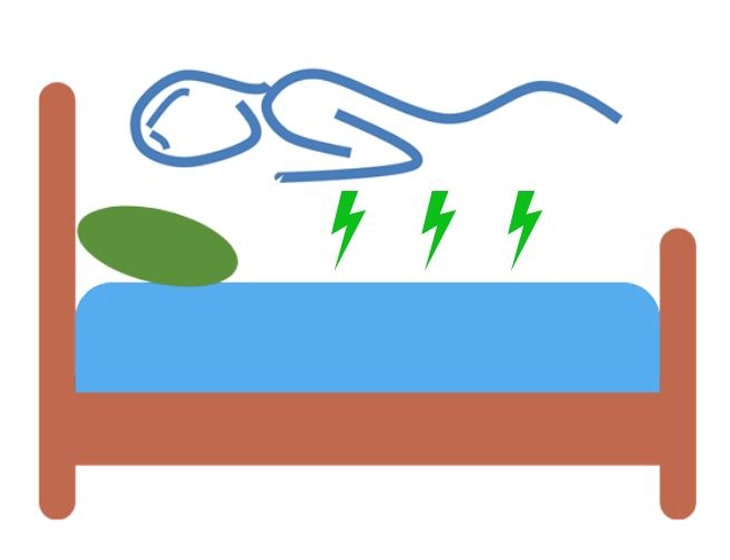 The conditions mentioned above are only the minor effects of poor circulation. There are more serious and riskier health complications everyone must be aware of. These adverse effects can snowball and become serious health risks. Many doctors, especially those handing senior citizens, have often advised on changing the mattress you sleep on when looking for a remedy.
Such Adverse Effects May Include:
​Heart failure. Consider this; ​You have been given some work and under a specific period. It is your project and crucial to your success or achieving a certain goal. When you start working, perhaps you have a group of ten people assisting, and you are sure to finish in time. Halfway into the task, half of the group quits. There is no way to stop the work, which means you have to work twice as hard. And imagine if everyone quits?
This is the same way the heart works. It is supposed to work in a specific environment that is easy for the proper pumping of blood. And the only proper condition for the heart to function normally is if blood circulation is achieved properly. Since the heart must ensure blood is every pumped in all vessels, poor circulation forces it to strain and work twice as hard. This is where fatigue on the heart originates.
​Chronic restlessness. Some people will never stop tossing around in bed. You may think something is biting them under the skin when in the real sense; ​They are just not using the right foam. Poor circulation does not do any justice to pressure points. When blood vessels under the pressure point constrict, they are not able to let blood through effectively. As a result, they bring a feeling of needles and pins in the body. You can never sleep well under such circumstances. The more this happens, the more you risk numbness, aches, and pain.
​Blood pressure. The result of the heart working too hard is increased blood pressure. This happens when the pressure point of meeting your mattress constrict. It causes the circulatory system to close, leading to poor circulation. If this condition escalates, the worst case would be a loss of life. There are many other effects of poor circulation we may not have mentioned here. But the point is, choosing the right mattress is key to getting the best sleep.
What is the best mattress for circulation?
There are very many types of mattresses in the world today. But the most important thing to look out for in a mattress for circulation is the features. There are key things you should consider together: ​Comfort, conformity, and hardness. These are the key features that affect the way your body reacts to the mattress you choose.
The truth however is, there is no sure answer when it comes to finding the best mattress for proper circulation. This is because the needs and considerations vary from person to person.
The most important thing to note is that most customers respond better to a mattress that is more conforming. They want to consider foam that is more responsive to their natural contours. This is why latex, foam, and hybrid model are among the best choices.
Here are three best mattresses for circulation handpicked according to their features and potential support to the individual;
3 Best Mattress For Circulation
1. SupremusGrandBreeze Mattress 12" Gel Memory Foam
Here a mattress that has all the features of a perfect solution for the best night rest. The mattress has been manufactured with a focus on elevating pain in the pressure points. It can help:
Relief pressure points while cooling you down for better sleep. Many people don't realize that their pressure increases at night when they sleep. You might have woken up at night one time to find yourself sweating so profusely you thought you were sick. Sweats and discomfort lead to unbalanced sleep, which causes the body function abnormally. This mattress has been engineered to elevate these pressure points and reduce pressure rise. It has a supreme foam layer that acts as a cushion, which depressurizes joints. As a result, blood circulation is increased, and the pain you may have been feeling the joints goes aways.
Wake up with increased energy. Increases temperatures can be a serious cause of uncomfortable nights. This mattress comes equipped with a cooling gel that ability to assure you a very comfortable sleep. The cells are allowed to regenerate, creating more ATPs, which increases energy flow.
Healthy spinal alignment. One of the major causes of health issues and uncomfortable nights comes when the spine is not well aligned. People have suffered spine injuries in the sleep without knowing because they did not have the right mattress. Here is a mattress that will mold and contour to the natural contours of your body in a therapeutic manner. If there is any pressure leading to back pains, you will not experience them again.
SupremusGrandBreeze Mattress 12" Gel Memory Foam
​High technology made with the best quality. It has four layers for durability.
Memory gel infused. The 2" supreme-GEL and 4lb density give it the best features for a great mattress.
2" breeze airflow 2lb foam. This comes with a 6" Ultimate Dual ventilation support base for great air circulation through the night.
 It comes with a white cover and matching pillow.
Thought the mattress is a bit costly; ​It is the best investment for a wonderful night rest.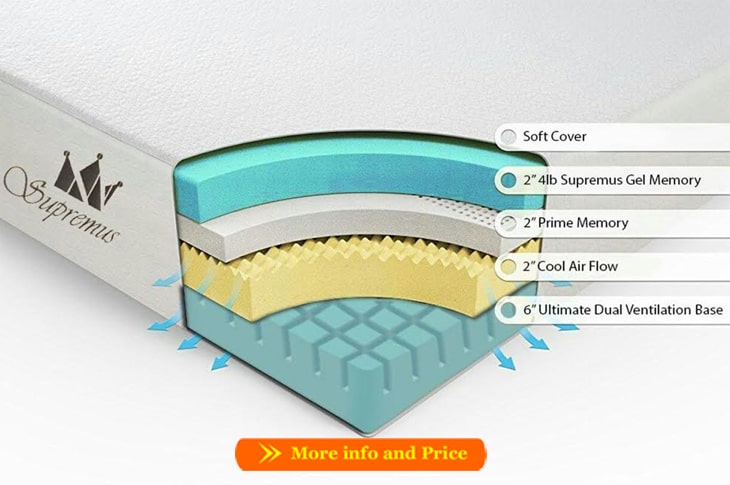 2. FoamKing Mattress, Sweetnight 12" Gel Memory Foam in Box
One of the reasons people don't sleep at night result from back pain, sweat, bad support, sagging, and mad movement. And that these are the issues the Sweetnight mattress is here to fix.
As we all may be aware, finding the right fit mattress is not very easy. But you have a right to sleep well and wake up feeling refreshed. This is the aim of a Sweetnight mattress. They are focused on giving you the best you can get in mattress technology.
There have been over 10,00 users of this product, all who have come back giving very positive feedback. From these results, the company has managed to create a 12" mattress that perfectly fits your needs.
The mattress offers a perfect spinal alignment. Whether you sleep on the back, the side, or on your stomach, the mattress will bring out the perfect alignment. It has a 12" breathable foam that is both supportive and comfortable.
It has been designed to address the most common sleep problems, which include circulation. Its size also allows you to sleep with your partner, yet still, avoid disturbance from their movement.
The Gel infused foam is a great feature for temperature control. You can sleep sound at night, knowing you will not be disturbed by temperature rises.
​The Best Features Include:
3 layers, all foam system designed into a king size mattress. The mattress comes with a medium firm feeling which a good start for conformity.
The cooling gel in the mattress allows you to sleep cooler as it handles temperature rise and other issues.
Comfort. The gel infused foam ensures proper alignment of your body contour, giving you unexpected comfort all night.
It is manufactured for health benefits. The mattress does not have harmful substances, making it a good choice for health issues.
If you are looking to invest in a good mattress, we recommend this one. The price might not be an issue if you consider the benefits.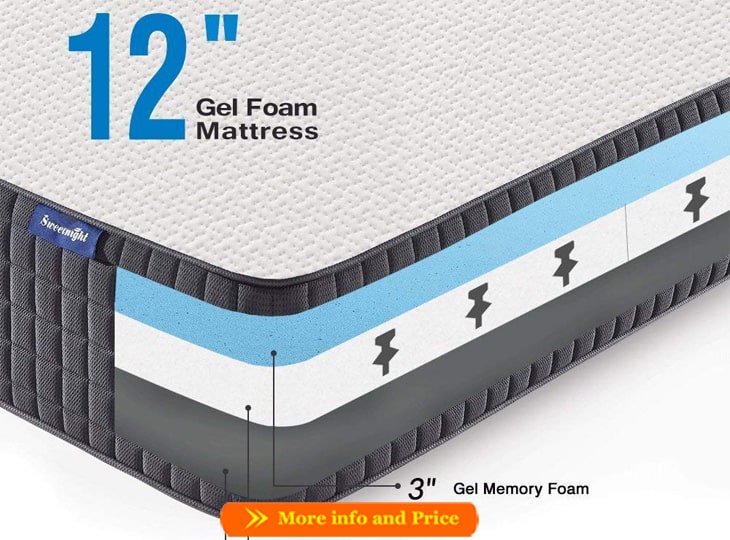 ​3. Tuft & Needle King Mattress
When it comes to choosing the right mattress, the manufacturer is often the first thing buyers consider. In this regard, Tuft & Needle is a company that is respected across the globe. Though it is a new company, it has managed to make its way into the market of great foam mattresses.
And here comes one of its premium products you can find online. This premium polyurethane foam will give the best night no matter where you are. It is simply a bed in a box.
​Its Features Include:
​T&N adaptive foam. The adaptive foam offers a bouncy, yet a supportive feel for all sleeping positions. Its level of conformity is quite amazing.
High Quality. It is constructed with a highly advanced high-grade foam. It gives the support you can never find anywhere else.
Sleeps cool. When choosing the perfect mattress, it is always hard to decide how hard the foam should be. T&N King Mattress is not too hard nor too soft, giving you just the right solution.
It has a full refund guarantee. When you are buying this mattress, you don't have to worry about potential risks.
This is an investment worth considering. It may be a bit expensive, but the mattress has all the features to ensure complete comfort.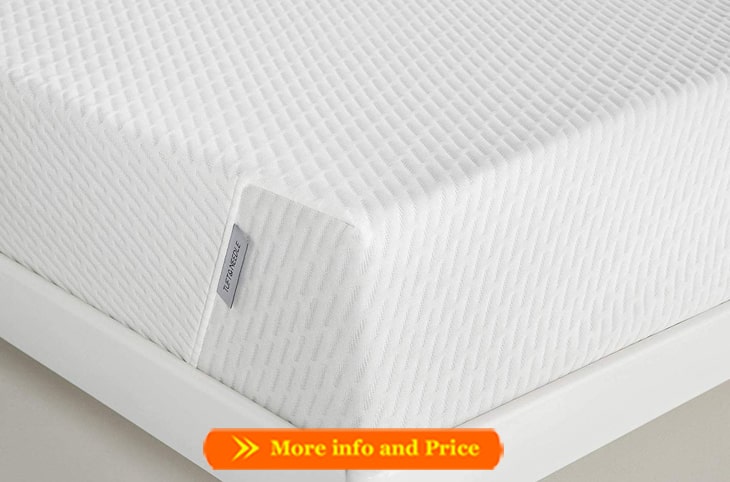 Conclusion
Getting the best mattress for circulation has been easier.  As much as there are many options to consider, getting a good mattress is your right.
We have shared the best mattresses to make your choices even easier. If you were wondering where to start from, not you have something to hold on.
When looking for these mattresses, consider the following:
​The manufacturer. As mentioned above, you are looking for someone you can trust.
​The material. All mattresses shared above are designed with advanced materials.
​Conformity. You don't want a mattress that is too hard or too soft. Give yourself a chance to be comfortable.
​The price. Even though this might not be so much a consideration when you are looking for serious investment, it is still worth noting.
And there you have it, the best mattress for circulation and how to choose.
See Also: