Sleep is essential for the health of a person. You need to ensure your body and mind is well rested if you must carry out your activities with energy. But with a condition like ankylosing spondylitis, sleeping becomes quite uncomfortable.
You will not be able to sleep well because your body will constantly be in pain. This condition makes sleeping a great challenge. You will feel like the night is too long for you and the day never seem to come. You experience more pain the longer you stay in bed.
You deserve to have a beautiful night rest despite suffering from such a condition. You will need the best mattress for ankylosing spondylitis to achieve this. It is all in the position you take while in bed. Sometimes the condition worsens just because you do not have the right kind of mattress to sleep on.
What Is Ankylosing Spondylitis?
Before we even go further, it is crucial that you understand what this condition is. Many people might be suffering, but they don't really understand what they are suffering from. All they know is having back pains at night when they sleep.
This condition affects people of all ages. You don't even realize you have such a condition until the symptoms start showing up. It might not even be the fault of anyone or anything that you have such a problem. If you have experienced any type of arthritis in you or anyone you know, it should be easy knowing what this condition is.
Put simply; it is a type of arthritis. Ankylosing spondylitis affects the spine in ways that it becomes painful when you sleep. The condition starts with symptoms that include pain and stiffness from the neck down to the backside.
It is caused by the spine bone fusing together. This fusion causes the spine to become rigid. This means that the patient will not have a normal posture anymore. The changes sometimes can be just too great that they affect one's upright posture completely.
If you meet anyone with a stooped-over posture, chances are they are suffering from this condition. The best way to control ankylosing spondylitis is early detection. This may help you understand the best ways to avoid deformity in your body.
Who Can Be Affected?
Looking at the description of the condition, one may think some specific people can be affected. In most cases, people assume that those who are a bit aged are the only ones who face a threat.
Research has shown that 0.1% to 0.5% of the adult population is at the risk of having ankylosing spondylitis. Surprisingly, spondylitis attacks men in their teens and early 20s. This is a revelation that many people might not expect to hear, but it is the truth.
In women, the condition is less common. But when it comes, it is milder. Some Native American Tribes are most commonly affected than any other place in the world.
The Most Common Symptoms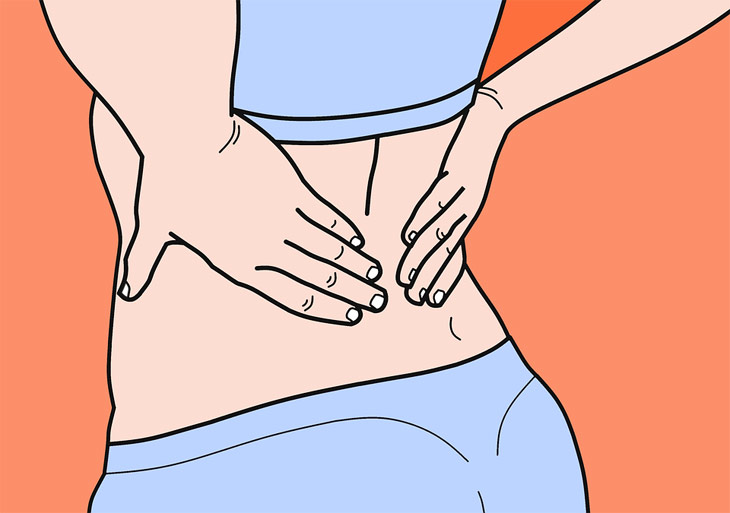 Chances are, you have spondylitis if you experience the following symptoms. It might, however, be a totally different condition but they should get you tested.
1. Pain And Stiffness
While it is common to experience pain and stiffness in the low back from time to time, it is not when it extends for more than three months. Spondylitis causes discomfort in this area, extending to the buttocks and hips. The condition often originates from the sacroiliac joints.
This is where the sacrum joins the ilium bone of the pelvis. The sacrum is the lowest major part of the body. This is why anything that affects the place might be felt throughout the spine.
2. Bony Fusion
Bony fusion is another major symptom for ankylosing spondylitis. This is an overgrowth if the bones that may lead to the abnormal joining of the bones. If the fusion affects the neck, back or hips of a person, it becomes impossible for them to perform routine activities.
There can also be a fusion of the ribs to the spine or breastbone. Such fusion limits the ability of a person to expand their chest when they take a deep breath.
3. Pain In Ligaments and Tendons
It is just one of the most common symptoms of this condition. The muscles and ligaments that attach to the bones may be affected. This should be expected where the bones swell if there is an abnormal connection. There is always some kind of stress placed on the ligaments which translate to pain.
A condition known as tendonitis is inevitable in this instance. Pain and stiffness are experienced in the area behind or beneath the heel. It is the same condition as the Achilles tendon that affects the back of the ankle. Note however that, this is a systematic disease.
The symptoms are not only limited to the joints, and one might assume. Other symptoms may include fever, fatigue and appetite loss. There are also cases where people experience redness and pain in the eyes caused by eye inflammation.
We also have some rare cases where the heart and the lungs can be affected. These symptoms are e common ones. They can occur together or one after another. The best way to determine the real issue is to get tested.
Cause of Ankylosing Spondylitis
It is normal for anyone to want to know the reasons why some conditions occur. However, some conditions cannot just be explained, and spondylitis is one of them. The cause of the condition remains unknown to many people.
It has been linked to a genetic or family link. Most of the people diagnosed with the condition have been found to carry the gene HLA-B27. People who carry this gene have the highest chances of getting spondylitis. However, not all can be affected; 10% of those who carry the gene don't show the signs of the condition.
​Diagnosis
There are several factors that are used in the diagnosis of the condition. Some of the factors include the symptom mentioned above. Apart from this, there is a physical exam that will be done, and the findings will be used to determine whether or not one is affected.
X-rays of the back of the pelvis is another way to find out about the condition. This can be done after considering the symptoms. Measurements of the chest when breathing are taken as well. Finally results from a lab test can also the most probable problem.
​Is There ​A Cure ​For Ankylosing Spondylitis?
Unfortunately, there is not a cure for this condition. The fact that there is no telling in the first place what causes it is a major contributor to the lack of treatment. But this does not mean that you just to suffer in silence.
You can consider many available treatments can help you reduce the discomfort as well as improve function. The treatment is not to fully cure the condition but to ensure that the there is less pain and stiffness. It also helping to maintain a good posture prevents deformity and helps one performs normal duties with comfort.
People with this condition can live a fairly normal life with proper treatment. It is recommended that a person seeks a team approach. This way, you will be encouraged by those you share the same experiences. A group will also have a doctor and a physical therapist. Patients with severe deformities can go for osteotomy.
1. Physical and Occupational Therapy
You need to ensure that chances of deformity are reduced from the word go. Through early intervention and physical therapy, you can achieve proper treatment.
2. Exercise
You can join a program that involves daily physical exercises. This is to help reduce stiffness, strengthen the muscles around the joints and reduce disability chances. Try to exercise with deep breathing to flex the chest cage. Consider swimming as well.
3. Medication
There are a few drug types that can help to reduce the pain. These drugs are great for those who are seeking a more comfortable way to continue with the exercise.
A drug such as ibuprofen, naproxen, and aspirin can work well in reducing the discomfort. Disease-modifying antirheumatic drugs to enhance the treatment. These will help with inflammation, stiffness, and pain.
4. Surgery
There is artificial replacement surgery for those with advanced joint diseases. This is a great option as well.
A Great Mattress for A Great Sleep
If you are not careful, the period you spend in bed may escalate the situation. You need proper sleep, but it will not be possible if you are in pain.
You need a great mattress that is made for the condition. Consider the following when choosing a mattress.
​Support level. Most of the pain and discomfort for spondylitis arises from the spine. You need a firmer mattress that offers additional support to the spine. The mattress should be able to support the spine along its natural curves without putting too much pressure on it. It should keep the spine in the same position as when you are standing to support from lower back pains.
​Even with a hard mattress, there must be a limit. A mattress should not be too firm either; it can cause and pains in the pressure points. It can also cause inflammation in the hips.
​Pillows might not be the best option. Pillowcases are great for adding some level of softness, but you should not use a too large pillow. This elevates the neck and can provoke pain in your spine.
​3 Best Mattresses for Ankylosing Spondylitis
| Image | Weight | Dimensions | ​Our Rating |
| --- | --- | --- | --- |
| | 81.5 pounds | 76 x 80 x 10 inches | |
| | 135 pounds | 80 x 76 x 13 inches | |
| | 13​8 pounds | ​81 x 76 x 14 inches | |
1. King mattress, Sweetnight 10 inch Gel Memory Foam Mattress
You should not have to turn in bed all night due to too much heat anymore. Use this gel-infused memory foam that is set with an ideal sleeping temperature for you. It has a patent 3-zone design that ensures maximum comfort and great back support.
It is made with high-density support foam that has deep-down support, good motion isolation that will guarantee you a quiet night.
This is the perfect mattress to address common sleep problems. You won't ever have to toss and turn due to back pain.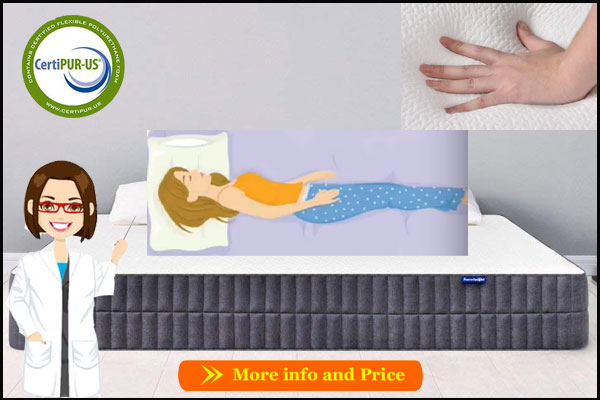 2. Olee Sleep 13 Inch Galaxy Hybrid Gel Infused Memory Foam And Pocket Spring King Mattress
The mattress is composed of 5 layers that include pocket spring. The mattress is designed to satisfy the support of your backbone as you sleep. It adapts to the shape of your body shape and temperature.
It regulates the body temperature while conforming perfectly to your body to release pressure on some points. The mattress comes with soft, washable and strong polyester Jacquard Fabric.
It offers a great advantage as well with the independently-encased coils that eliminate motion disturbances. You won't even know your partner is there. The mattress is built for durability.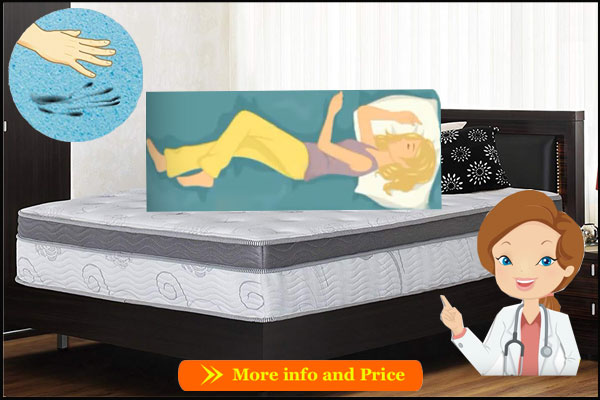 ​3. ​Classic ​Brands New 2018 Cool Gel Ultimate Gel Memory Foam 14-​Inch ​Mattress
This mattress comes with the best premium pressure-relieving memory foam. It has the highest density aerated cool gel form as well. These two features are combined into perfect support and comfort you will need for a deeper sleep at night.
The knitting of the mattress is unlike any other product you might have met. The latest technology is used to achieve a detailed sketch knit fabric cover.
The mattress is gel-fused to create a plush and comfortable sleeping surface. The high-density base foam ensures your body is confirmed to relieve pressure points. And with the cool gel inside the mattress, you will never suffer from high or low temperatures.
This mattress is created with the latest memory form technology. The material infuses gel particles into visco-elastic memory foam which creates a cooler sleep material. It simply offers the best environment for spondylitis victims.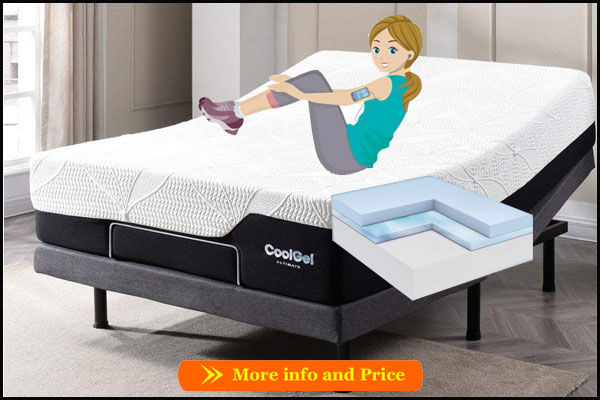 ​Conclusion
Best mattress for ankylosing spondylitis is hard to come by. There are just too many things to put into consideration. However, it is a must that one has to choose the mattress if they want to enjoy a peaceful sleep.
Even if you go through all the treatments, your condition for sleeping may spoil everything. The mattresses discussed above are the best on the market to give you that comfort you need. Hopefully, they get you on the road to more peaceful nights.
See Also: