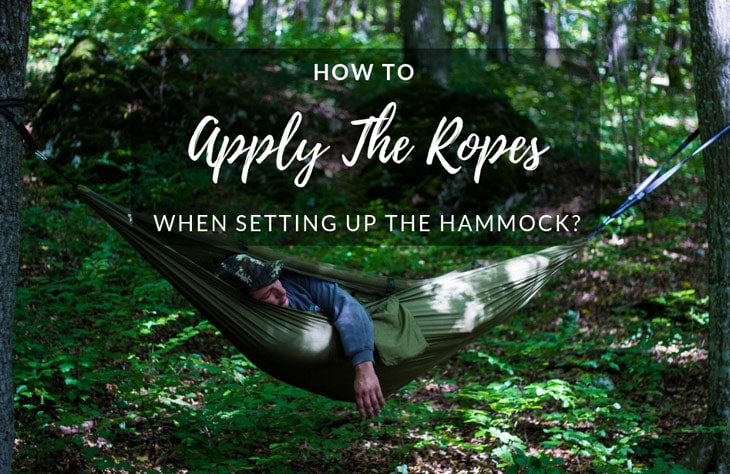 Best Rope For Hammock
As a recreational "thing" for most of us, hammocking brings a great deal of stress relief. With the sunlight against the skin, a cool breeze of airbrushing through your hair, and the adoration to beauty which is nature, the hammock is an instrument that lets us find comfort while outside.
More...
According to research, sleeping in hammocks (1) reduces stress, (2) improves your sleep, (3) improves blood circulation, (4) helps with muscle aches, and (5) improves focus. More studies show that sleeping in hammocks provide the individual with that same embrace babies receive when they are still in the womb.
This sensation allows even adults the comfort they once had when they were kids – No wonder we tend to sleep better when we are covered in sheets. But of course, the hammock is not just the ordinary sheet set-up we always see in movies. It still has its own intricacies and complexities.
That includes the material it is made from, the different adages that makes each brand unique and worth buying, the designs, and most of all, the components needed to set-up the hammock itself.
In this article, you will find the best rope for hammock which will help keep your product off the ground. We will provide you with the "how to's" of the ropes, and tips which will help you pick the best and most suitable rope for you.
Why Do We Even Use Ropes?
First of all, hammocks are incomplete without them. Ropes essentially weigh less than straps and are more practical budget wise. Other than it's a typical choice for the budget-conscious, ropes provide a broader use for outdoors than the straps. Its extreme versatility is undeniably noticeable because of its commercial use in many fields.
To sum it up, here's why ropes are used for hammocks:
​Enough said.

​Easily utilized; adds a bonus utility for the "unexpected" things to happen.

​Has strength and resiliency which is dependent on the material it was made from.

​It is practically an important element to set up your hammock. Without it, it'll be difficult to hang it out in the open.
Ropes are heaven sent. Truly, without them, society would be different. Since we have established its amazing capacity, there are things we would have to consider. First, what are things you should look for in a rope to consider it good?
What To Consider When Choosing A Rope
| | | | |
| --- | --- | --- | --- |
| | | | |
| | | | |
| | | Polyester Filament Webbing | |
| | | | |
| | | | |
​Consider the material – The material is the core element to a good rope. It usually is either made from natural material such as cotton or manila. Other ropes are made from synthetic materials such as polyester or nylon. Both types provide their own ups and downs such that when synthetic ropes are subjected to a lot of weight, it will be put into a lot of strain and will cause it to stretch. On the other hand, ropes made from natural fibers usually suck up water and causes it to tighten, reducing its stretch. Be mindful of this because it will come in handy when you would have to consider the type of environment you are going to dwell in.
​Consider the weight limit/capacity – Of course, you wouldn't want to be wasting your money on things that easily breaks. One of the important things you would have to worry about is the amount of load the rope will be able to support. There is a certain formula with which you can attest the supporting power of a rope. They say that if you take the diameter of the rope and multiply it by itself three times, you can get a hold of how much load the rope could carry. For a 1 inch rope, its capacity is to carry around 2,000 pounds of weight. You go ahead and do the math; otherwise, there has got to be an information card included in the pack.
​Flexibility – This quality of the rope is responsible for the stretching and lets the hammock to sag a little. After all, you wouldn't want a straight hammock. Other people would prefer a straight hammock, or others want it to sag a little. Truth be told, whatever material a rope is made from, it will exhibit a certain amount of stretch.
​Has it any other uses? What every camper would want is a single tool that can offer multiple uses. A rope is as handy as anything else. Choosing one is quite tricky, as its variety of its use would largely depend on the material it is made from. Synthetics would offer better flexibility and a sufficient strength.
​Consider the environment it will be exposed to – Just as discussed with the material it was made for, the weather – The elements around us will always affect every single thing we bring out into the world. If the material is made from linen or cotton, then obviously it would be a drag for when it rains. If the product is synthetic, then the hot summer days would jack the setup. Somehow, there will always be a compromise but always plan for the trip. It is not always that when you go to a place, it'll rain, so we suggest you go ahead and do a little research on the upcoming weather first.
​The price ALWAYS matters – Of course, what the majority of the hammocking populace would always consider this factor. Expensive does not always suggest a better product. Some always just goes for the more practical choice – A cheaper one that offers sufficient quality for the user to utilize.
How ​To ​Apply ​The ​Ropes ​When ​Setting ​Up ​The ​Hammock?
Whether you are new or a veteran at hammocking, here are some basic steps to setting up the hammock with your rope. These are not the typical go-to for setting up the hammock, but this should give you the stepping stones to better manage yourself when doing this sort of stuff.
Remember, these are not the "fixed" standards to go for, but undeniably the essential steps to setting things up. Once you get the hang of it, you can always veer off whichever way you are comfortable with.
So here are 4 steps for you to set up your hammock:
​Look for sturdy trees around – These will be your anchor point. Try to estimate the distance with which they are apart. An ideal measure for the distance apart would be about 3.6 meters to 4.6 meters apart. Ideal height of trees you should be gunning for would be 12 to 15 feet tall.

​Next is to go to your webbing straps – These will be the ones to protect the trees from getting damaged. As much as you would like to enjoy your trip, you have to be considerate of the environment. Attach the webbing straps around the trees to protect the bark. About 1 to 2 inches (2.5 to 5 cm) wide would suffice, and about 6 feet (1.8 meters) high to create the attachment points.

​Next is to attach the rope to the webbings – Of course, the rope is entirely dependent on your choice. Regardless, the previous process is one of the basic steps you must do first. Hammock ropes can be directly attached to the webbing. Tie it into a carabiner, have it loop through a toggle. You can also have it in many other configurations.

​Things you have to consider: Angles, Height above ground, the ridgeline, and protection from the elements.
Now you've got yourself a nice little tutorial on setting things up, why don't we go deeper into the talk about the ropes? By popular threads on the internet, such as hammockforums, here are 3 best ropes according to some users:
Those are just three general options you can choose from. For a much more detailed approach, we present you with a list which is specific for ropes that you might want to avail.
Here is a list of the five best ropes for hammock suspension:
1. MalloMe – XL Hammock Straps
Set to provide a versatile set of tree straps ready to support 2,000 plus pounds. This heavy-duty cord is 21 feet long, and 1 inch wide. This is provided with 20 attachment loops (40 total). This is easy to hang, and fast to set up. Completely adjustable, and no stretching for comfort.
2. Nature's Hangout – HangTight Hammock Straps
In less than 90 seconds, you can set up your hammock with this bad boy. Equipped with the Daisy-chained loop system, this makes adjustments easier. Three reinforced double-powered bar-tacked stitches. This strap goes 20 feet long and 1 inch wide, equipped with 16 loops. This boasts with an ultra-light and compact setup which weighs around 13.2 ounces with the bag.
3. Wise Owl Outfitters – Wise Owl Outfitters Hammock Straps
​A tree friendly must-have gear for camping hammocks, this one boasts with a set up where even kids can do themselves. Easily adjustable and negates stretch, these straps are very strong. With 20 feet long straps and 19 loops, you can adjust the height and comfort level anytime. Designs and color vary from black with blue stitching, black with fuchsia stitching, black with green stitching, black with grey stitching, black with orange stitching, black with red stitching, blue, camo, and white stitching.
4. PYS Outdoor – XL Hammock Straps Set
​This strap holds up to 2000 pounds and is brought to be made with the highest standards. From 20 feet long and 1 inch in wide, this ultra-light and compact strap help in accomplishing every hiker's desire. It only takes minutes to set up, as there are no difficult knots needed to be tied. You just have to wrap the straps around anything.
5. WEHE – Hammock Straps
An extra strong and lightweight strap equipped with 36 loops, this sure is a strap which holds great strength. This strap boasts in its 20 feet total length, and 1-inch wide structure. This can hold up to 2000 plus pounds, which is never a bummer. They are super easy to use and boasts that even kids can set them up by themselves.
​Conclusion
In conclusion, you don't have to limit yourself to just these items we've left you. Your choice is entirely own discretion. Just make sure you follow the tips we've included here, you're set to go. Understand each consideration we've set, and you're on your way to an enjoyable experience with your hammock.