7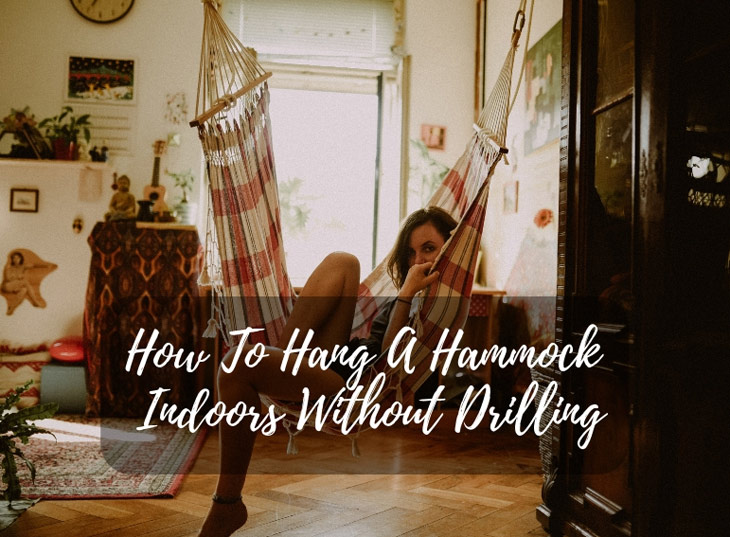 How To Hang A Hammock Indoors Without Drilling
The hammock might seem a revolutionary way for people to experience a surreal sensation of sleep, but in truth, it has already been a tool that has given millions of individuals a sleep so different from that of sleeping on a bed mattress.
More...
The hammock is a hundred-year-old invention by the Mayan civilization which they used for their sleep. It is very convenient for them to use and the most ideal type of bed available for them. They live in jungles and had to sleep on the ground.​
The hammock's advantage for them is that they keep the Mayans off the ground while they sleep. The jungle has hundreds of creepy crawlers, and it is no wonder that the hammock is an ingenious invention during that time.
While the modern people would not really have any interest in such an insight, the creation of such a tool is a wonder that is taken for granted.
​How To Hang A Hammock Indoors Without Drilling
Hammock And The Modern World
There have been studies which were conducted about the humble hammock. One of which is a study regarding the quality of sleep an individual can acquire with the use of it.
On a study conducted and published in the journal Current Biology, twelve subjects have been studied. They were selected and were observed on the quality of sleep sleeping in a hammock can bring to individuals who want to get a shut eye.
Two of the twelve respondents were left out as they had some interferences and were not able to continue with the experiment. However, still the study continued with the ten other men, and the results were outstanding. Studies show that (1) they fell asleep faster in the rocking bed than in the standard ones. (2) They had a deeper sleep, which correlates to a better quality of sleeping.
1. Rock - A - Bye - Baby!
The study suggests that rocking motion had a lasting effect on the brain activity, increasing bursts of brain activity known as sleep spindles.
These effects are characteristics of a deep sleep, which means more of those brain waves, mean a much better quality of sleeping.
2. Longer, Deeper Sleep
Nobody wants to get their sleep interrupted! No one! Hammock-type beds help alleviate the time it takes for one to get to sleep. Admit it, not everybody gets a good shut-eye once their eyes closed.
Most of the time, it will still take about five to ten minutes before your brain goes into the N3 stage of sleep or the Slow Wave Sleep (SWS). This is characterized by the familiar delta waves that the brain emits in EEG's when they get into the sweet spot while sleeping.
3. Wrap Me Like One Of Your French Women!
No, the heading does not guarantee a French giving you a hug. This wrapping assimilates a touch that helps the sleeper get deeper sleep and more sensation which stimulates release of hormones that would induce a drowsier effect on the brain making you feel sleepier by the minute.
Definitely, in this study, it is proven that sleeping in hammocks gives off the best results of sleep. The hammock is a great tool to bring whether it be on camping out, going to the beach or just a complete replacement for your bed.
Great ​Qualities ​Of ​A ​Hammock
Of course, all the science stuff and unfamiliar words are not enough to support your reasons to replace your bed with a hammock. In light of the common people, we wanted to enlighten everyone about the benefits the humble hammock has to offer to the modernized people that we are now.
With that, we have put together these simple reasons for you to make a choice of having a hammock for a bed, or not:
Are you convinced yet to have a hammock? Well if you do, then here is one more reason for you to finally get yourself your well-deserved sleep. Hammocks can be placed inside your homes. Yes, that is right! Hammocks can be placed inside your homes.
The typical hammock is easily thought to be those that are usually hanged or hooked onto trees in the forest. The wilderness is the most suitable place for hammocks to be used. As to what people are mostly used to think about the hammock, it is the type of sleeping gear which the man of the wild would love to sleep in.
How do they set the hammock up? It is as easy as drilling holes or wrapping ropes around anchor points. But how would you set up a hammock inside your homes? If you have some posts or anything that could serve the purpose of being a tree as an anchor point, then there would be no problems.
But how about those homes without posts? Most solution would be to drill holes into your walls. Now that wouldn't be nice at all, would it? No one wants to see holes drilled into their walls just to hang a hammock; Unless it becomes an aesthetic figure in the home.
For this problem, this article contains some tips you should consider to finally be able to enjoy the comfort of having a hammock inside your home. There are key points to hanging a hammock.
Hanging one does not simply imply throwing a sheet of sturdy cloth up and about a post or onto a ceiling. To ensure a firm standing hammock, these are the three key points you should consider when hanging your hammock:
​1. ​Determine ​The Size ​Of ​The ​Hammock
The size of the hammock is dependent on the space you have available for it. The biggest may be the most convenient for you, but the big question is if it would fit inside your home? Remember that this article is about setting up a hammock inside your home.
​2. ​Where ​Will ​You ​Hang ​It?
You should also consider the place where you would want to hang it. A more convenient place would be on the porch. In some cases, people would really want it inside the house. If that would be the situation, then you should extremely take careful note on the possible consequences of putting in inside a room.
One of those would be the fragile materials around the hammock. You should put them in a safer distance from the range of motion the hammock is capable of doing once used.
3. ​Choose ​Your ​Hanging ​Method
There are three possible ways this article can give you to hang your hammock without drilling holes. That would be (1) using posts or columns as replacement for the trees in the outside, (2) hang them on your ceilings, or (3) using a hammock stand.
Setting ​Up ​A ​Hammock ​Without ​Drilling ​Holes ​In ​Homes
How to hang a hammock indoors without drilling – Here in this article, we'll be tackling about some easy solutions for you to set up your hammock inside your house. Most people would prefer not to have holes done and frankly, anybody would opt to find another way other than to poke holes to their homes.
While that may be the case, others can easily decide to straightway drill holes and just get the work done. For those who are concerned and who are not concerned, we offer these sets of tips for you to consider, and then finally get your hammock done, and your homes hole-free.
​1. ​In ​Between ​Posts ​Or ​Columns
​2. ​Hanging ​Them ​On ​Ceilings
3. ​Using ​A ​Hammock ​Stand
Different companies around the world compete with one another just to provide us with the most sophisticated type of fabric to use in the making of the humble hammock. Engineers have devised different intricacies just to provide the users of the hammock with the comfort and convenience they need to satisfy their sleeping needs.
Going down to the bottom of it all, sleeping in a hammock is definitely beneficial for everyone. The only fight you would have to face now is the struggle of finding the best spot and choosing the best method to hang your hammock.
This only goes to show how versatile the hammock really is. It is a gear not only for use in the outside environment and outdoor activities such as camping, backpacking, or beach trips; It is a gear used to provide people with a quality sleep.
This has been going on for centuries, and it has proved itself to be a tool that can test the times.