Trundle beds are sold at different prices and also of different qualities. Getting that extra set of bed for your guests or family at the best price and of the best quality is not quite easy. Some may be the right price but may also be of low quality while others may be the best in quality but may be quite overpriced.
Are you searching for a pocket friendly trundle bed that is of good quality and has proven to last for a long period? Look no further, this article is just for you with the featured best trundle beds that you can get for below $300.
DHP Metal Trundle Bed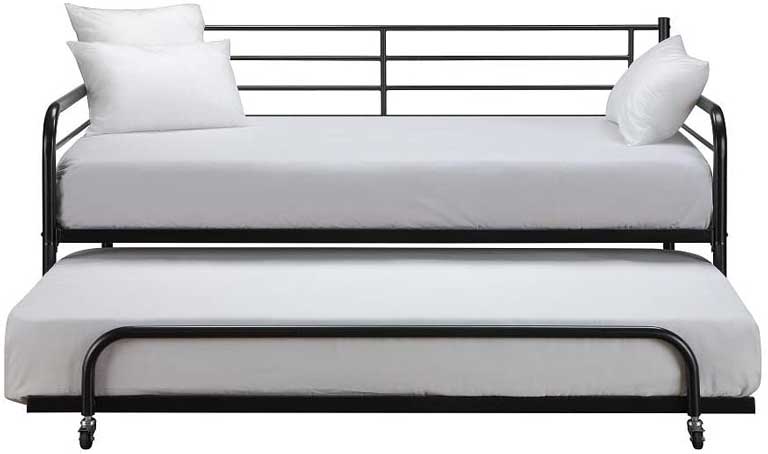 DHP Metal Daybed with Trundle is a contemporary trundle bed made of solid metal. This trundle bed fits perfectly under the matching metal daybed that is sold separately. With its uncomplicated parts and included instructions, you can quickly and easily assemble the bed in no time.
The bed can accommodate one twin sized mattress, which doesn't come with the set. The four featured wheels slide easily on the floor and has two locking and non-locking mechanism. The trundle bed as a whole can support up to 225 pounds of weight. It cannot be elevated to the same height as the main frame but remains only a few inches off the ground.
You can easily tuck the trundle away when not in use which makes it perfect for sleepovers. With the versatile DHP Metal Daybed with Trundle that costs just $119.96, watch as your space becomes fully optimized.
---
Homelegance Jones Metal Daybed With Trundle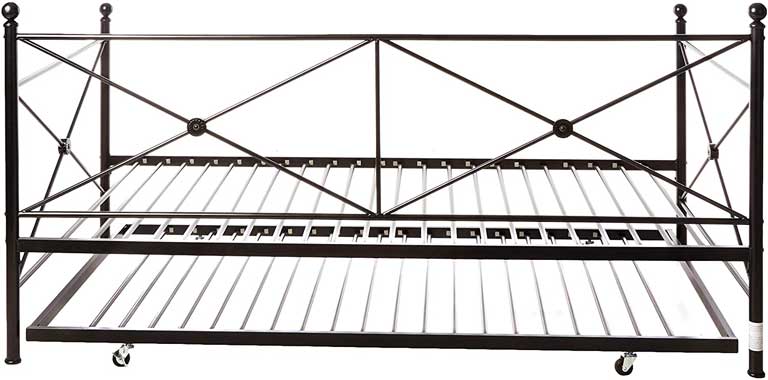 Homelegance Jones Metal Daybed with Trundle features both a daybed and a trundle. The modern style metal frame daybed can accommodate a standard twin size mattress, same with the trundle bed. It is coloured black which is a neutral colour that matches any décor, be it bold or subtle.
Both the daybed and trundle come with slats for maximum support. The trundle also features wheels that enable easy access, when pulled out and back in. The daybed measures 82inches by 41.75 inches by 42 inches while the trundle measures 76.75 inches by 41 inches by 4.25 inches.
Just like the DHP Trundle bed above, the trundle of this piece cannot be raised up to the height of the daybed. Get yours now, that is both the daybed and the trundle for a token of $280.
---
Zinus Suzanne Twin Daybed Frame With Trundle Set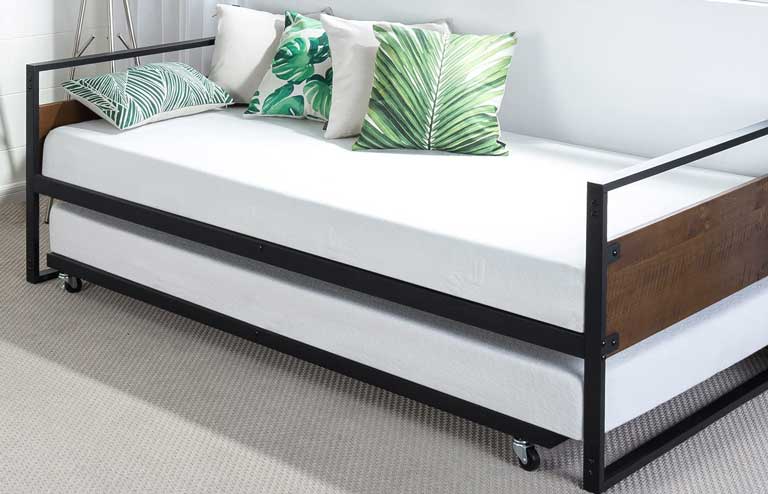 Zinus Suzanne Twin Daybed Frame with Trundle Set is expertly designed to accommodate two twin size mattresses of 5-6 inches thick for $189.99. The beautifully constructed furniture is made of wood with strong steel support that can hold up to 250 pounds of weight.
It is quite easy to assemble, takes just minutes without the use of any tool. The slats included in this bed are made of durable steel that provide the best support without requiring a box spring. This daybed and trundle provide comfortable extra seating and sleeping space for your family and friends.
Well packaged with clear instructions on how to set up, it is fairly easy to assemble. It can fit perfectly in any room, not just because of its beauty but also the compactness. Note that it is advisable to use a thicker mattress on this bed because the foundation of the bed is just rods with no wooden board so a thin mattress may not work.
---
Zinus Eden Twin Daybed And Trundle Set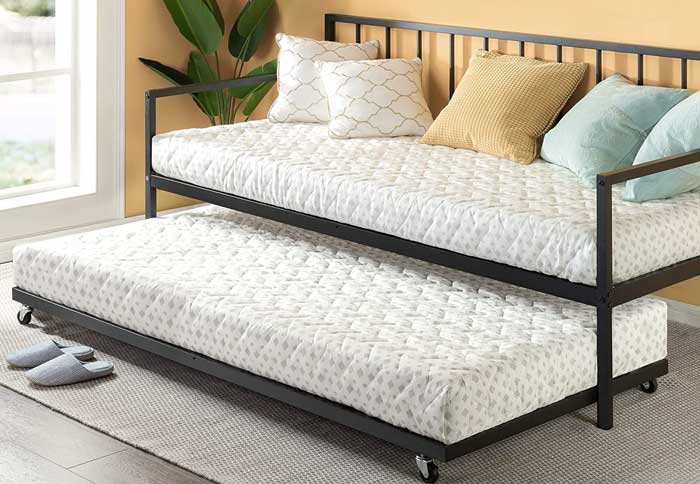 Zinus Eden Twin Daybed and Trundle Set is a stylish and functional space saver. It includes a daybed and trundle which can accommodate two twin size mattresses; less than 9.5 inches thick. The quality steel slat featured in this set provide maximum support and stability with a weight limit of 250 pounds.
Don't use this furniture on hardwood floors as they are prone to roll away due to the presence of just 2 lockable wheels. Straightforward to set up with no tools needed and easy to roll away when not in use, Zinus Eden Trundle offers the best comfort while still saving space.
The trundle and the top daybed are of the same size, that is 39 inches wide, 77 inches long and 38 inches high. This is a great product for the money so why not purchase it today for $260 and you are sure to not regret it.
---
Zinus Florence Twin Daybed And Trundle Frame Set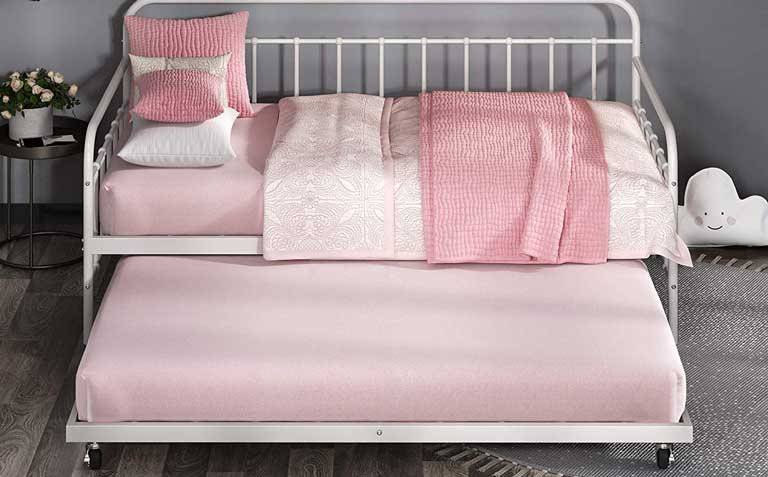 Zinus Florence Twin Daybed and Trundle Frame Set is another comfort invention from Zinus and costs only $203.25. This product provides extra sleeping space and additional seating with the trundle that is easy to slide underneath the bed when not in use.
The trundle comes all the way out as it is not attached to the upper part of the bed but on its own. Furthermore, the trundle does not pop up, it is on the floor and rolls out. The elegance of the white frame matches any furnishing and it is constructed with original steel which provides secure support.
The bed as a whole has no sharp corners which makes it quite safe. Plus, there are quite a number of slats but you don't have to worry about where each will go. This is because the directions that come with the package has all the pieces labelled correctly so you can easily figure out which slat goes to which slot.
---
DHP Astoria Metal And Upholstered Daybed With Trundle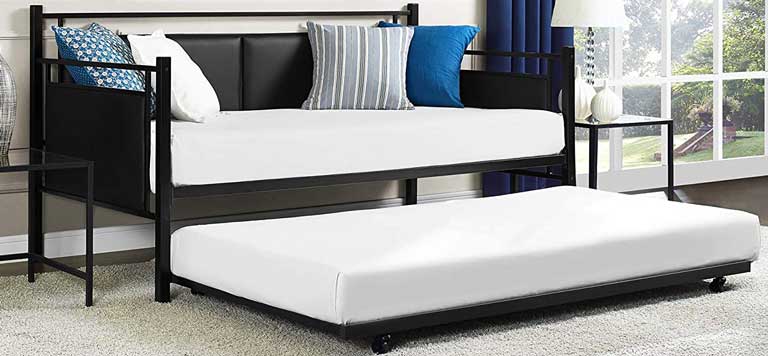 DHP Astoria Metal and Upholstered Daybed with Trundle is a strong metal furniture that is designed in a remarkable modern way. The bed features a faux leather upholstery that is ideal for seating and sleeping. It can hold two standard twin size mattresses without using an extra foundation for support.
The daybed is 77.5 inches long, 41 inches wide, 40 inches high and has a weight limit of 400 pounds. The trundle bed on the other hand is 71 inches long, 40.5 inches wide, 4.5 inches high and can support up to 225 pounds of weight.
Use this piece that costs $294.33, to save a lot of space in your home while still brightening up the room and providing you with maximum stability as well as comfort. All the parts of this furniture ship in one easy to handle box with extra bolts and the necessary instructions needed for assembly.
---
Conclusion
Buying a trundle bed for below $300 requires a ton of research prior to your purchase. This is because you don't want to buy the ones that have no structural integrity or do not last long. All that has been taken care of in this article so all you have to do is browse the list and pick.
Some of the trundle beds listed above are separate from their parent bed. So you may have to purchase them separately, depending on your choice. Each of the trundle bed will provide you with a good experience while still being affordable and comfortable.