Imagine the great scene of a sinking sun, going and going until it disappears into the horizon. Staring straight into the endless sea, your eyes falling more profound, and at the same time, having sips of Pina colada. Who would ever want to experience that?
On the soft sand where the breeze will only blow sands to your face? Some might want that, but most would prefer laying in a hammock, where you can get enveloped with soft fabric touch.
When people hear the word hammock, what immediately comes to mind is a sunny day at the beach or the setting of the sun. Beside is a small table with your favorite cocktail, and ladies in bikinis or men in trunks running along the shores of the sea.
While that's the ideal and typical picture that almost all of us would see, one more alternative for the hammock use is the use for it to replace a bed in the night. There are a bunch of benefits that hammocks are able to provide.
Benefits Of Sleeping In A Hammock
On a study conducted and published in the journal Current Biology, twelve subjects have been studied, and was observed on the quality of sleep sleeping in a hammock brings to an individual who wants to get a shut eye.
Two of the Twelve respondents were left out as they had some interferences and were not able to continue with the experiment. However, still the study continued with the ten other men, and the results were outstanding.
Studies show that (1) they fell asleep faster in the rocking bed than in the standard ones. (2) They had a deeper sleep, which correlates to a better quality of sleep.
​1. Rock ​- A ​- Bye ​- Baby!
The study suggests that rocking motion had a lasting effect on brain activity, increasing bursts of brain activity known as sleep spindles.
These effects are characteristics of a deep sleep, which means more of those brain waves, means a much better quality of sleep.
2. Longer, Deeper Sleep
Nobody wants to get their sleep interrupted! No one! Hammock-type beds help alleviate the time it takes for one to get to sleep. Admit it, not everybody gets a good shut-eye once their eyes closed.
Most of the time, it will still take about five to ten minutes before your brain goes into the N3 stage of sleep or the Slow Wave Sleep (SWS). This is characterized by the familiar delta waves that the brain emits in EEG's when they get into the sweet spot while sleeping.
3. Wrap Me Like One Of Your French Women!
No, the heading does not guarantee a French giving you a hug. This wrapping assimilates a touch that helps the sleeper get deeper sleep and more sensation which stimulates a release of hormones that would induce a drowsier effect on the brain making you feel sleepier by the minute.
Reasons To Swap Your Bed For A Hammock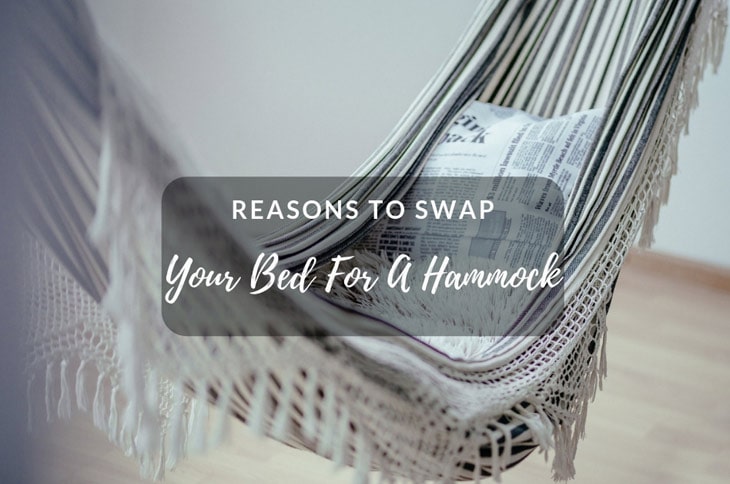 Of course, all the scientific stuff and jargon are not enough to support your reasons to replace your bed with a hammock. In light of the common people, we wanted to enlighten everyone about the benefits the humble hammock has to offer to the modernized people that we are now.
With that, we have put together these simple reasons for you to make a choice of having a hammock for a bed, or not:
​You will fall asleep faster, and much quicker! Ever noticed the simple transition of a crying baby smoothly going to sleep when the mother starts to cradle and rock the baby in her arms? That's exactly one reason you sleep easier even as an adult.
​When you fall asleep faster, you will experience a deeper sleep. This allows ample time for the brain to start recovering from all of the day's hard work.
​Having better sleep means preparing for a better performance during wake time.
​There will be no more need for heavy mattresses.
​This will save you from dust mite infections, dead skin cell stuffed mattresses, and potential allergen.
​It's a big help for bedwetters. There's actually no more bed to wet, just some thin cloth or matt straw. Remove the hammock sheet, wash it up in the laundromat, and let it dry under the sun. Once dried, you are good to go!
​It saves a lot of space in rooms.
​Comfortable, and convenient.
​Alleviates back pain.
​Excellent sleeping gear when outside or in camps. Keeps you above the ground, and away from the creepy crawlers.
Which Type Of Hammock Is Best Suitable For Nighttime Sleeping?
So, in beds, you have the single sized bed, the double sized bed, the double-decker bed, the queen sized bed, the king sized bed, and heck you probably even have the ace bed if you want.
Either way, you can only have them and fully experience that good night sleep if your beds are placed in your closed rooms. But if you're one to take on the popularity of the hammock ​- for ​- sleep movement, then here are some of the types of hammocks out there that you should be aware of:
1. The Quilted Hammocks
One of the most comfortable to lay in, quilted hammocks are composed of two fabric layers stuffed with soft filling which sort of assimilates a mattress, only that it's not a thick one. It's practically the thin sized mattress.
It's a great one to use to fall asleep, and definitely, one that would make good for an indoor hammock or a bedroom hammock even. The downside to this is that you can not leave it outside. Let the rain fall and it will definitely make your hammock the worst.
2. The Mayan Hammocks
So, we say Mayan, and what picture immediately comes to mind? That's right, ancient Indian Americans. They are probably the most popular users of the exclaimed "sleeping in nets between trees" as Columbus exclaimed when he discovered the Bahamas a long time ago.
Mayan hammocks are of the traditional Mayan style, yet of great and high value. They are used for high loads of weight, made to contend with overweight people. Yet even though they are made for heavy duty individuals, it has the ability to conform to the shape of their sleepers.
They are easy to transport and are actually durable. The Mayan hammock, or Hamaca Maya, is a light, sprang woven webbing that opens effortlessly to accommodate the user.
3. The Brazilian and Nicaraguan Hammocks
Two varieties that possess many similarities to the Mayan Hammock. Made from multiple fibers, they are very solid and long-lasting. They are portable, light, and quite portable. Excellent for the outgoers, these types of hammocks are also good form indoor sleeping hammock.
On an especially note, the Nicaraguan type of hammock uses a special type of weave which makes it a little stronger and less likely to tear than something like the Mayan.
Top 3 Best Hammock For Bed Replacement
There are a bunch of hammocks out there that are waiting to be found, and some already are the talk of the town. Here are three of the best choice for hammocks that will suit your taste:
| Image | Manufacturer | Dimensions | Weight |
| --- | --- | --- | --- |
| | Best Choice Products | 52 x 10 x 8 inches | 32.5 pounds |
| | Vivere Ltd. Hammocks | 94 x 63 x 130 inches | 35 pounds |
| | Hammock Sky | 144 x 59 inches | 3.3 pounds |
1. Best Choice Products Double Hammock With Space-Saving Steel Stand
BestChoiceProducts provides a Double Hammock which includes a portable carrying case. It is provided with a Desert Stripe, Rainbow Stripe, Red Stripe, and Blue Green Stripe design.
​Crafted with 100% cotton, this hammock is designed for the best classical relaxation and comfort time for the user.
​This hammock comes with a durable stand constructed of all-weather resin steel, giving that flexible indoor and outdoor usage a huge thumb's up.
​Space Saving Steel Stand allows for a great height and rigid support to carry any load.
​This can accommodate up to 2 adults.
​A carrying case is included. This provides ease of usage, convenience, and comfort. You can easily carry the hammock and bring it outside whether it be a camping trip, a relaxing time at the beach, outside the house in the backyard, or even indoors just you and your own self to relax.
​Overall dimensions: 115 inches in its length, and 45 inches wide.
​Load carrying capacity: 450 pounds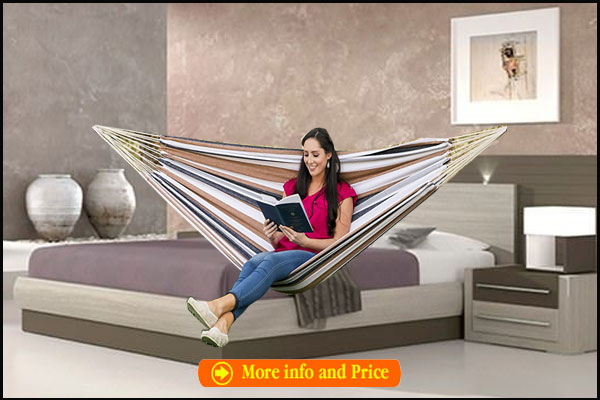 2. Vivere Double Hammock with Space-Saving Steel Stand
Relaxation has never been made easier than with the use of Vivere Hammock. A wide range of hammocks, Vivere Hammock stands at a pinnacle with their different styles and color whether in a hiking trip, a trip to the beach, an outdoor oasis, or an inside the house or indoor relaxation place right in your living room, Vivere Hammock makes it to your front door.
​Vivere Double Hammock is provided with Space-Saving Steel Stand.
​The cloth is made of 100% cotton and imported also comes in Polyester, and Sunbrella style.
​Made with high-quality, durable end strings.
​​A nine-foot stand is constructed of heavy-duty steel, ensuring a durable and heavy-duty support.
​​Easily assembled, and done in minutes without the use of any tools.
​​The hammock bed is provided with 63 x 94-inch dimensions, a total length of 130 inches.
​​This can accommodate two adults.
​​Load carrying capacity: 450 pounds
​​​Designs include: Carousel Confetti with Charcoal Frame, Cayo Reef, Ciao with Charcoal Frame, Denim with Charcoal Frame, Desert Moon with Charcoal Frame, Oasis with Oil Rubbed Bronze Frame, Paradise, Plumeria, Retro, Rio night with Charcoal Frame, Salsa with Charcoal Frame, Sand with Oil Rubbed Bronze Frame, Techno with Charcoal Frame, Token Surfside with Charcoal Frame, and Tropical with Charcoal Frame.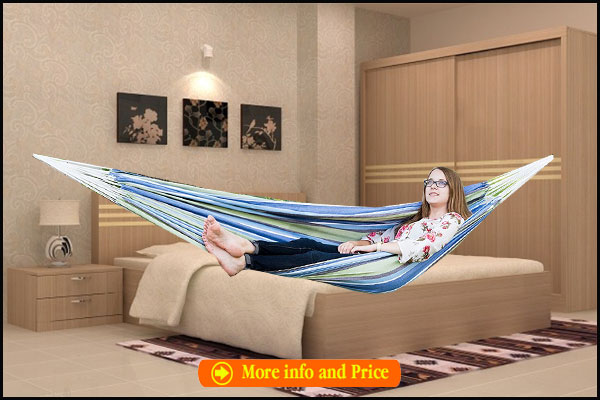 ​3. Hammock Sky Brazilian Double Hammock
Hammock Sky is an excellent provider of Hammocks in style and Hammocks with attitude. They give the traditional hammock a modern twist and a revolutionary design with may look unconventional at first but using them will definitely tell otherwise.
The Hammock Sky Brazilian Double Hammock is a hammock for two, which can act as a bed for Backyard, Porch, Outdoor, and Indoor use.
​​It is laden with soft woven cotton fabric for supreme comfort. Tightly woven, and with long-lasting thread, this style of creation has been handed down for generations by native artisans from Northeastern Brazil. A legit hand down of masterpiece and handcraft.
​Total length is 144 inches while the bed resting area is 98 inches long and 59 inches wide. The initial dimensions are small, but this "stretches" in time, and will fully accommodate two persons at once. This is an actual quality that the hammocks provide.
​Comes in Three colors: Natural which emanates a silky, and pearly white cloth. Orange and Yellow Stripes. Blue and Green stripes.
​The company provides a lifetime warranty on their products if the user is not satisfied. What a company! The price does shout "I'm high quality!".
​Comes with a free carry bag for easy transport.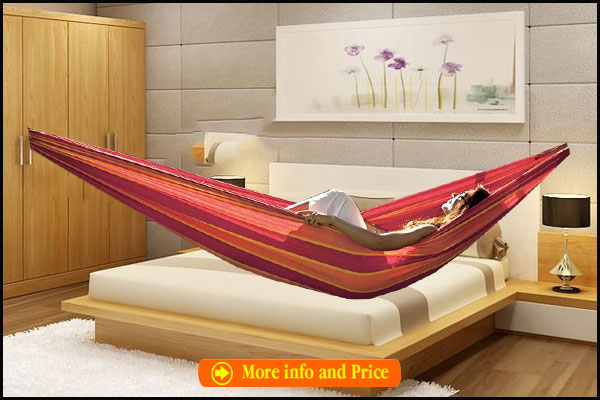 ​Conclusion
In the eve of this great time of modernization and advancements, one seeks to look back and stand in amazement to the many things that we've left behind in the past – the many great progenitors of inventions which led the way to the machinery and inventions that we have now.
Hammocks have stood the test of time with history showing its existence right from the time of Native Americans at the time of Spanish conquest, such that even now, hammocks continue to be used and improved even.
People compete over the size of their beds, the comfort of a mattress, the drowning of pillows when in bed. Little did they know, hammocks provide the same thing, only on a much simpler scale.
So the best hammock to replace bed, choose one that is easy to carry, very much capable of getting transported with you any time. Choose one that can suit your requirement for sleep – be it a soft cloth, or a hard matt of strings, you decide. Choose one that you'd like to use whether by yourself or with someone. So buy a hammock, and know that it is what you need.
See Also: